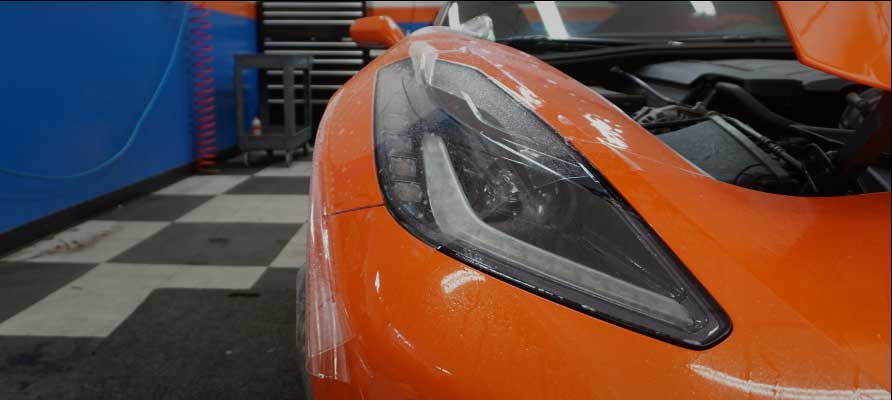 Keeping your car, truck or SUV looking like new isn't always easy. The vehicle enhancement experts at 1sixty8 Audio are specialists in automotive paint protection. From our high-quality 3M Paint Protection Films to our state-of-the-art ceramic coatings, we can maintain the appearance and value of your vehicle.
What Is Paint Protection Film?
Originally designed to protect helicopter blades from damage during the Vietnam war, paint protection film or clear bra is an incredibly tough, urethane film that we apply to the vulnerable areas of your vehicle. We use top-quality 3M Paint Protection Film on our client vehicles because it is optically transparent and amazingly durable.
The 8-mil-thick film absorbs impacts from rocks, gravel, sand and bugs to prevent chips, scuffs and scratches that degrade your paint finish. Whether you need the leading edge of your hood protected or want us to wrap the front bumper, mirror covers, door sills, door handle cups or rear bumper, we'll design and install a protection solution that will keep your vehicle looking great.
3M Automotive protection films are backed by a 10-year warranty against yellowing, bubbling, cracking or peeling. The warranty is honored at all authorized 3M dealers across the country, so even if you move, your investment is protected.
What Is Automotive Ceramic Coating?
Ceramic coatings keep your vehicle looking great by making it easier than ever to keep clean. We use Gtechniq products like Crystal Serum Ultra to add a high-gloss barrier of protection directly to your paint. After polishing out scuffs, swirls and blemishes, our team applies the ceramic coating, then buffs it to a mirror finish.
The hydrophobic properties of the coating repel water so that it carries dust, dirt and debris away from the paint with little to no effort. Likewise, bug splatter and road tar can be cleaned away easily without having to exert significant pressure on the fragile paint.
Our ceramic coatings last up to 10 years. Regular maintenance is, of course, required, and our team of professional automotive detailers is here to help.
Keep Your Vehicle Looking Great at 1sixty8 Audio
If you take pride in your vehicle, let the automotive enhancement experts at 1sixty8 Audio help you keep your car or truck looking like new. Drop by our store in Lehighton for a free inspection. We'll help you choose a protection solution that suits your application. You can also reach us by phone at 888.888.8888 or by e-mail using our contact form.